Indicator of the Month: Importance of the Visitor Industry to Southeast
Importance of the Visitor Industry to the Southeast Regional Economy
Juneau's economy is far more dependent on tourism than any other region of the state. In Southeast Alaska, visitor industry employment accounts for nearly a quarter of all jobs (10,200 full and part-time jobs) and represents 15% of all labor income, according to a recent study released by the McDowell Group.1 While half of all visitor-industry employment occurs in Southcentral Alaska (18,900 jobs), this represents only 7% of total employment and 4% of total labor income in that much larger economy. At 7,000 jobs, the interior region comes closest to Southeast in visitor industry employment, but here, too, this is only 11% if total jobs in that region.
The majority of Southeast visitors arrive by cruise ship. However, between 2008-09, the last time impacts were evaluated, and 2011-12, the composition of visitors to Alaska changed, with cruise volume dropping by 14 percent while air visitor volume increased by 14 percent. The drop in cruise passenger visits resulted in an employment decline in Southeast Alaska by approximately 400 jobs (a decline of 4%), while Southcentral added 1,300 jobs (a 7% increase) and the interior added 800 jobs (a 13% increase) largely because of the increase in the air visitor market.
1Economic Impact of Alaska's Visitor Industry 2011-2012, February 2013. The full report can be found at http://commerce.alaska.gov/dnn/Portals/6/pub/Visitor_Industry_Impacts_2_....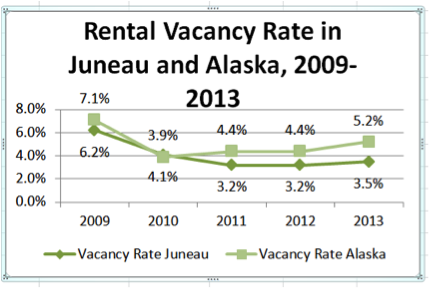 Source: Economic Impact of Alaska's Visitor Industry 2011-2012, Prepared by the McDowell Group for ADCC&ED, February 2013