Mary Becker - Mayor's Liaison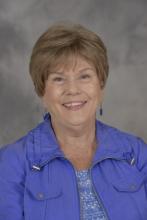 Mary Becker was born in Florida and raised in small Eskimo villages in Alaska.  Her mother was a teacher and her father worked for the Army Corps of Engineers.
She is a graduate of Sitka High School and the College of Idaho, where she received a degree in Elementary Education with minors in Counseling and English.
She taught school in Maryland and moved to Juneau in 1966, where she retired from the Juneau School District after many years of service.  She has taught at the elementary, middle school, and high school levels. Mayor Becker served on the Juneau School Board for nine years, four of those as president.  She was a member of the Alaska Association of School Boards, including a term as state president. She is in her seventh year on the City and Borough of Juneau Assembly.  She served four years as deputy mayor before becoming mayor in November, 2015.
Mayor Becker is married to Jim Becker.  They have four grown children and seven grandchildren.  In her spare time, Mayor Becker enjoys reading, walking, and volunteering in her community.