Margaret O'Neal, Director of Operations, Director of Southeast Alaska Revolving Loan Fund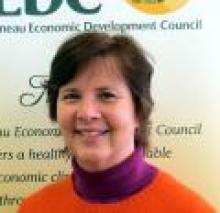 moneal@jedc.org - (907) 523-2326
During her years in commercial banking and finance, Margaret helped hundreds of businesses in Alaska's urban and rural areas thrive. A graduate of the University of California at Berkeley, Margaret moved to Alaska in 1983 to work as a Senior Operations Manager for Alaska Federal Savings & Loan. Margaret spent much of her career as a commercial loan officer in Alaska and operated her own financial consulting firm that provided turnaround assistance to small business owners and consulting for prominent financial institutions.
Margaret now lends her vast and varied experience to JEDC operations and to our business community. Her expertise includes organizational leadership, contract administration; grant management, real estate acquisition and strategic and operational planning.
Beyond her responsibilities as Operations Manager and CFO of JEDC, Margaret is the Director of the Southeast Alaska Revolving Loan Fund, represents JEDC on the Alaska Wood Energy Task Group and serves on the Juneau Affordable Housing Commission.