Robyn Mesdag, CFA, Researcher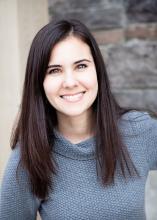 Prior to working at JEDC, Robyn worked in finance, first with the State of Alaska as an Investment Officer, then for a Portland, Oregon investment consulting firm as an Associate Consultant. During her time in finance, Robyn created, reviewed and presented performance reports to clients to ensure clients' investment goals were being met per their investment policy, managed and facilitated recommended transition plans, completed asset allocation studies and special projects, including a salary study for the State of Washington and public funds reporting. Robyn has earned the right to use the Chartered Financial Analyst designation.   
At JEDC Robyn's responsibilities include economic research, acting as a liaison for the Junior Achievement program, and organizing fundraising to support the robotics teams statewide.
Robyn has a finance degree from Linfield College and is a graduate of Juneau – Douglas High School. Outside of JEDC Robyn spends time with her husband, two children and her (many) extended family members, as well as volunteering in the schools.