Indicator of the Week: Juneau's Boat Owners
Of the 4,168 boats registered by Juneau residents with the Alaska Division of Motor Vehicles in 2011, 4,137 were motorized -- or roughly one to every eight Juneau residents. Commercial fishing vessels registered in 2011 through the Commercial Fisheries Entry Commission by Juneau residents numbered 323, and another 74 vessels home-ported in Juneau were licensed as charter fishing boats.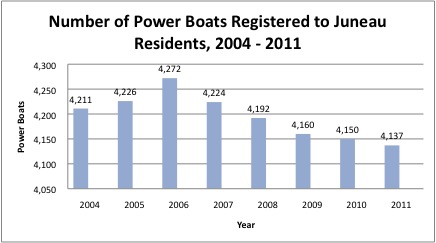 Boat ChartVessels owned by Juneau residents are not necessarily home-ported here, and other boats may be brought to Juneau for the fishing season or other purposes that are not included in this total. However, these figures offer a reasonably complete perspective on Juneau's boat owners.