FIRST Robotics (2009 – Ongoing)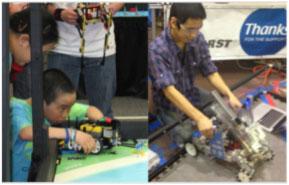 The Challenge:
Alaska's K-12 students are falling behind benchmarks in math and science disciplines. By the time they graduate, they are unable to meet the educational or career standards to continue to higher education or to become talented leaders in Alaska. In 2012, based on ACT test scores, 52% of Alaska's students did not meet college-readiness benchmarks in mathematics, and 70% did not meet college-readiness benchmarks in science.  In 2012, only 13 Alaska students took the AP subject test in computer science. This indicates a profound shortage of opportunities in a field with broad application across Alaska's occupational sectors.
The Solution:
National partnership: JEDC is the Operational Partner for FIRST Robotics programs in Alaska. FIRST offers innovative opportunities for learning both inside and outside of the classroom that motivate young people from the time they start school through high school graduation. FIRST programs include: Jr. FIRST LEGO League (Jr.FLL) for grades K-3, FIRST LEGO League (FLL) for grades 4-8, FIRST Tech Challenge (FTC) for grades 9-12, and FIRST Robotics Challenge (FRC) also for grades 9-12.
Statewide program execution: JEDC recruits and trains coaches and volunteers, manages all official FIRST events, and serves as a liaison with the national program to ensure high standards across the state. At each level, teams of students are led by at least one coach or mentor and presented with an annual challenge. Teams meet regularly to prepare their solution to the challenge, and then compete through a series of qualifier and championship tournaments around the state, culminating in an international robotics competition where teams win recognition, gain self-confidence, develop people and life skills, make new friends, and perhaps discover an unforeseen career path.
 
Results:
Since 2009, when JEDC became Operational Partner, the FIRST program has grown significantly across the state. During the 2009-2010 season, there were 10 JFLL, 121 FLL and 46 FTC teams registered in Alaska. In 2013, there were 25 Jr. FLL (150% growth), 155 FLL (28% growth), and 90 FTC teams (95% growth) registered in Alaska. These team registrations represent the involvement of over 2,000 students, over 250 adult coaches/mentors and over 10,000 hours of donated volunteer time. The program has grown from just 3 official events statewide to a qualifying system of 16 official tournaments each year. Along with the overall program growth, students that started with the program in elementary school are now graduating high school and continuing into the University of Alaska and entering into STEM majors, internships, and jobs.
Reference:
Contact: Karen Cowart, Director, Community and Public Affairs
Phone: 907-564-4475
Email: Karen.cowart@bp.com