Juneau and Southeast Economic Indicators – City and Borough of Juneau (2001 – Ongoing)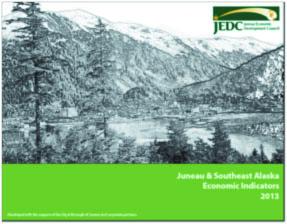 The Challenge:
Juneau's private and public organizations, local, state and federal agencies, lawmakers and engaged citizens need valid and timely economic data for making sound decisions for the community and region
The Solution:
Profiling local economies: For more than a decade, the Juneau Economic Development Council has developed and maintained annual economic indicators to share with community residents, local and regional leaders, and decision makers.  JEDC's annual 60 page printed and on-line publication provides economic overviews of Juneau and Southeast Alaska, including a detailed assessment and profile of Juneau's economy, with historical 10 year trend analysis. It reports on employment, payroll, demographics, and cost of living information; contains overviews on the tourism, mining, seafood, and health care industries; and reports on housing, transportation, business sales, student enrollment, and quality of life statistics.
Website content and design: JEDC further provides a "Choose Juneau" website designed to provide general information about Juneau for businesses considering relocating to Juneau or expanding Juneau operations. It contains an overview of the Juneau economy, information and links about business resources, working in Juneau, recreation opportunities, arts and culture, local schools and health care facilities, and more.
Data collection and interpretation: Development of the Juneau and Southeast Indicators requires intensive data collection from various institutions and sources.  JEDC analysts have worked with this data for over a decade and are not only familiar with the data and the sources required for developing the data, but are also aware of the challenges and nuances that come with reconciling disparate data sources.