Southeast Alaska Asset Map and Southeast Cluster Initiative - USDA Forest Service (2010 - Ongoing)

The Challenge:
Management of the Tongass National Forest plays a significant role in defining the economy of Southeast Alaska. Recognizing that a transition from old growth logging to new growth forest management has played a role in the stagnation or decline of smaller communities in the region, the USDA Forest Service created a Tongass Transition Framework for Economic Diversification with an interagency project implementation team. The team desired a strategic plan and road map for helping communities in Southeast move to a more diversified economy. 
The Solution:

Baseline economic profile of Southeast Alaska: In Phase One of the project, JEDC and partners completed an Economic Development Asset Map, an economic overview that provided an understanding of conditions and trends in key economic drivers of the region and servied as the baseline foundation for Phase Two, a job creation roadmap for Southeast Alaska. The Asset Map identified key regional assets, linkages, business attitudes and the overall business climate.

Business leadership survey implementation and interpretation: JEDC and partners conducted a business climate survey to better understand the barriers and benefits of owning and operating a business in Southeast Alaska. The survey also explored the different regional norms and attitudes, and which regional networks and institutions are most valuable to local businesses. The survey was completed by 243 business owners and top managers, representing every community in Southeast Alaska. Survey results were combined with baseline economic profiles to serve as a foundation for roadmap development.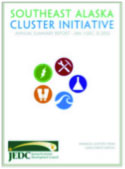 Engagement of stakeholders from industry, non-profit and government sectors in the planning process: For Phase Two, the economic roadmap, JEDC pioneered a new approach to planning in Southeast Alaska, one where private and public groups formed partnerships through industry clusters - or groups of geographically-concentrated, interconnected businesses, suppliers and associated non-profit and government institutions in a particular field - to foster innovation and create shared value for all. JEDC launched this collaborative planning approach in 2010, called the Southeast Alaska Cluster Initiative. By organizing industry clusters, JEDC created an environment where firms collaborated to address common problems, thereby increasing productivity, driving innovation and creating new business. At the core of this Initiative are the members of five industry cluster working groups: (1) Ocean Products, (2) Visitor Products, (3) Mining Services and Supply, (4) Renewable Energy and (5) a newly formed Research and Development Cluster. JEDC engaged the private sector, state, federal, local and tribal government agencies, academia, non-profit groups, community leaders and other stakeholders in industry-specific facilitated work sessions which culminated in actionable initiatives for the five key economic sectors.
Results:
In the first year of cluster development, over 200 individuals were engaged in 15 collaborative stakeholder meetings facilitated by JEDC. Four cluster working groups were launched, and a total of 33 action initiatives emerged through facilitated stakeholder planning sessions. In the next year of support, JEDC added two more cluster working groups and facilitated 6 more stakeholder cluster meetings that led to 12 additional action initiatives. Since 2012, the public engagement process has shifted from action plan development to implementation. Each cluster group is led by industry co-chairs and is organized into initiative teams to carry out the implementation steps. JEDC now works with over 25 initiative implementation teams to follow through on action steps. 
Reference:
Contact: Beth Pendleton, Regional Forester, US Forest Service
Phone: (907) 586-8863
Email: bpendleton@fs.fed.us