FIRST in Alaska Corporate Challenge
The 2020 Corporate Challenge is moving to Anchorage!
The Corporate Challenge is a great event designed to raise funds, interest and excitement for FIRST programs. The Challenge allows adults to get in on the action of FIRST -- and don't be fooled by the name! It's not just for Corporations. Anyone can join!
Teams of adults get a shot at the building and programming an EV3 robot to complete missions focused on the prior year's FLL theme. After signing up, teams have a short amount of time to meet, program and practice for the big event when teams compete head to head to complete as many missions as possible in just two and a half minutes.
Important Information:
When is the competition?

Team registration deadline is February 28. 
We will offering training opportunities and materials pick up during the week of March 1st. 
Teams have 5 weeks to build and program. We will have online support available throughout those 5 weeks to help with programming and game questions. 
The competition will be on Wednesday, April 8 from 6 PM - 8 PM at the 49th State Brewing Company Anchorage Brewpub. 

How do I sign up? 

Team requirements: Teams must be composed of at least 2 individuals and and commit to abide by the FIRST Code of Conduct. You do not have to be affiliated with a business or organization. 
Cost: $1,000 per team. All materials provided. 

Are there discounts? 

Yes! We are offering special discounts for some of our VIP participants. 

Commit to Coach Discount. Coaches committed to leading a team in the 2020-2021 season can receive a $200 discount. 
University Discount. Student and/or faculty teams from any Alaska University can receive a $100 discount. 

Why should I compete? 

Support our teams! Registration fees from this event will be used for direct support to register teams for the 2020-2021 season and provide support for our statewide operations. You can choose to direct you team support to a specific team or let us choose a deserving recipient. Corporate teams will be notified which official FLL team you are supporting so you can cheer them on through their season. 
Learn the program! The Corporate Challenge is a great way to understand what FIRST LEGO League is about and become a strong coach, mentor, and volunteer. 
Improve work performance! FIRST LEGO League teams of all ages show gains in workforce skills. This is a great way to build morale and improve communication and teamwork at the office. 
Market your business! Corporate Challenge teams will be recognized in our 2020-2021 event programs, on our webiste, and thorugh social media. 

What do I win? 

Honor! Pride! Bragging rights! And a LEGO trophy. Trophies will be given for the top performing team and for team spirit.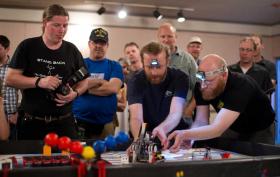 ---
Thanks to all the participants in the 2016 Corporate Challenge! We hope to see you again this year!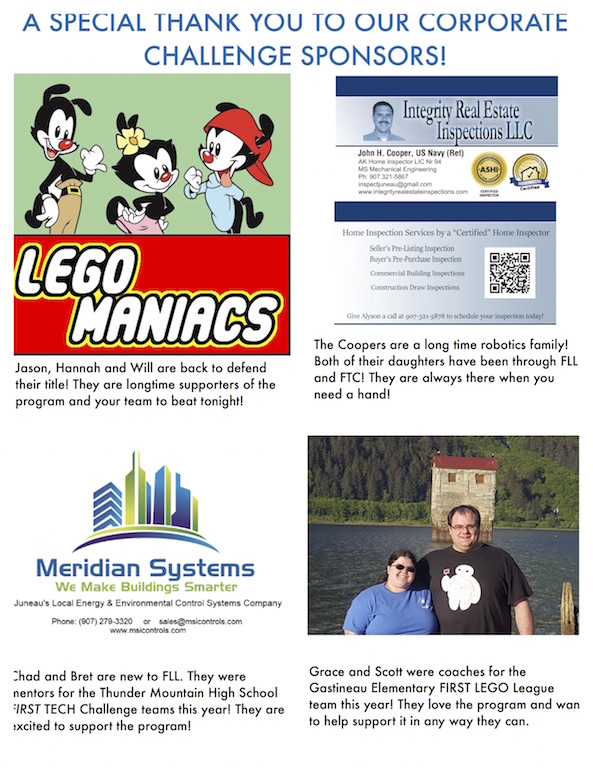 ---