Garrett Schoenberger, Vice Chair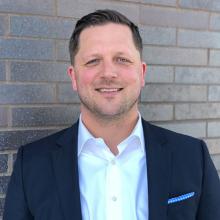 Garrett's background is in real estate, with more than $200 million in transaction volume over his career.
Garrett has experience with lease and sale transactions, as well as real estate acquisitions with a private equity group.
He worked as an industrial broker with Grubb & Ellis, based in Phoenix, Arizona, completing more than $39 million in lease and sale transactions ranging from 1,000 to 250,000 square feet, and providing transaction services for more than 50 clients.  
He served as the Director of Acquisitions for Curtis Capital Group based in Bellevue, Washington, where over five years he was directly involved in the acquisition of 12 multi-family properties across five states, totaling more than $161 million. His responsibilities included sourcing, underwriting, negotiating and executing business plans with an average annualized return on investments of 29 percent.
He earned a business degree from Arizona State University and was a proud member of the Sun Devil baseball program.
When not at work, Garrett is enjoying being back in his home state with his wife and new baby daughter, enjoying the abundant outdoor opportunities.