Project Homeless Connect

Project Homeless Connect
Monday, January 28, 2013 • 9AM-3PM • Centennial Hall and Juneau Arts & Culture Center
The Juneau Homeless Coalition announces the date for its annual Project Homeless Connect event for people who are experiencing or are at risk of experiencing homelessness.
Over 180 people have been assisted on this day in each of the past three years. People that attend receive goods and services on the spot including health care, haircuts, housing assistance, job placement, food, foot massage, and much more.
The Juneau Homeless Coalition encourages the community to participate in the following ways:
Provide a Service – Over 50 agencies, service providers, and businesses were on hand to assist in 2012.
Service Provider Form... (or download the form as PDF)
Provide a Health Care Service / Information – Blood pressure screenings, glucose and cholesterol screenings, foot care, massage, and much more.
Health Care Provider Form... (or download the form as PDF)
Provide Personal Attention Care – 50+ hair cuts were given In 2012.
Volunteer – More than 50 volunteers are needed to take surveys, escort participants to service providers, and provide additional support.
Volunteer Form... (or download the form as PDF)
Donate - Participants leave with much needed items for the winter months. All types of donations are welcome. See full list on
Donations Form.... (or download the form as PDF)
If you are interested in Project Homeless Connect, please contact the lead or complete the appropriate form in the links above.





Category

PHC Lead

Agency

Contact

General Questions

Mandy Cole

Dan Austin

AWARE, Inc.
St. Vincent de Paul

mandyoc@awareak.org

st.vincentdepaul.juneau.@gci.net

Facilities (Centennial Hall, JACC)

Allen Hulett

Gastineau Human Services

Service Providers

Shari Partin

Alaska Housing Development Corporation

Health Care Providers

J. Ellen Moore

Juneau Public Health

Volunteers

Vicki Lynn Wilcox

Juneau Public Health

Donations

Wayne Stevens

United Way of Southeast Alaska

Publicity

Kiel Renick

The Glory Hole

Food (Day of Event)

Ray Cole

The Glory Hole

Data/Intake Surveys

Scott Ciambor

State of Alaska

Haircuts/Massages

Jorden Nigro

SAIL, Inc.
Along with surveys conducted at Project Homeless Connect, service agencies, housing providers, and healthcare providers that work with homeless clients also complete surveys at their offices, emergency shelters, etc. On January 24, 2012 the number of Juneau residents that were homeless was 562. This slide shows the Point-In-Time Homeless Count from 2008-2012.
What we learned from the 2012 Project Homeless Connect: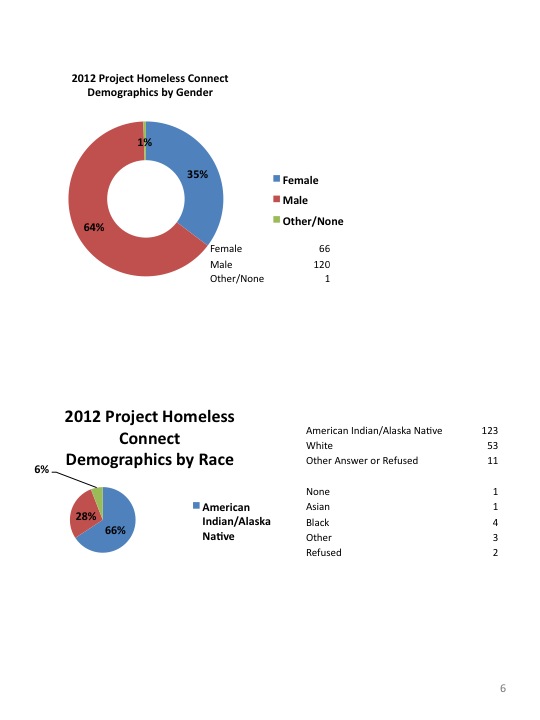 This slide captures the important details from the surveys taken at last year's event.

Point-In-Time Homeless Count: