2014 Storefront Star Awards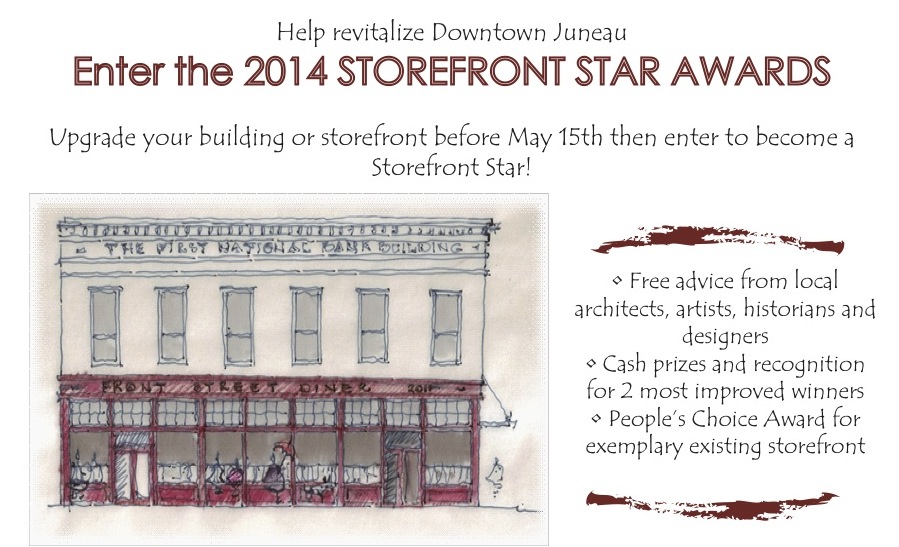 WHAT:
A storefront improvement competiton that recognizes businesses and building owners for their contributions to a attractive, safe & vital Downtown Juneau.
WHEN:
Improvements made now until May 15
th
, 2014
WHO: Business or property owners in the downtown business area from the Rock Dump to Norway Point – link to the online map here
WHY: Attractive buildings attract business. The intent of this competition is to encourage downtown businesses to independently invest in improving the appearance of storefronts. By improving the appearance of buildings, this program hopes to improve the economic vitality of downtown.
HOW TO ENTER: Take before and after pictures and fill out a short online application - Apply Now! Deadline is May 15th with awards given in June.
---
Need some INSPIRATION?
Link to our Pinterest Page to see historic photos and ideas for your building
SIGN UP for free advice
A team consisting of local architects, artists, historians and designers will be touring area businesses to offer ideas & advice on upgrading your building or storefront. Paint, lighting, window fixtures, awning, signage or more major construction. No project too small!
Email here or call 523-2323 to reserve a spot on the March 2014 tour.
RESOURCES
FAQs
Whether or not you will need a permit depends on the project to are planning. Please use the link on this page to the CBJ permit center to learn more.
There will be cash prizes for winners, as well as an award plaque for your window and publicity for your business.
What is considered downtown?
Our web page has a link to a map of the eligible area. Generally, the eligible area is the core commercial area and the Willoughby district.
Who pays for the prizes?
The Storefront Improvement program is sponsored by organizations that care about the safety and appearance of the downtown area. A list of sponsors on the right.
What about seasonal businesses?
Seasonal businesses are eligible and encouraged to enter the 2014 competition as well as the 2015 competiton announced later this year. Add your name to mailing list to get all the updates.
How can I become a sponsor?
We would love to have your support. Please email: mwaring@jedc.org or call Marie at 523-2323
News