Engage your peers around
forward-thinking topics and
endeavors that are contributing to Localization in a Global Economy.
The Innovation Summit is welcome to all ideas that move Alaska (and our neighbors in the Yukon) towards innovative initiatives. Each year the conference selects a theme to tie ideas together. This year's theme is Localization in a Global Economy.
We will explore ideas around how a strong local economy can enhance community resiliency, while still participating as both a consumer and producer in a global market. Within this, we will encourage conversations about the important role that diverse local economies can play in creating better solutions for local and global challenges.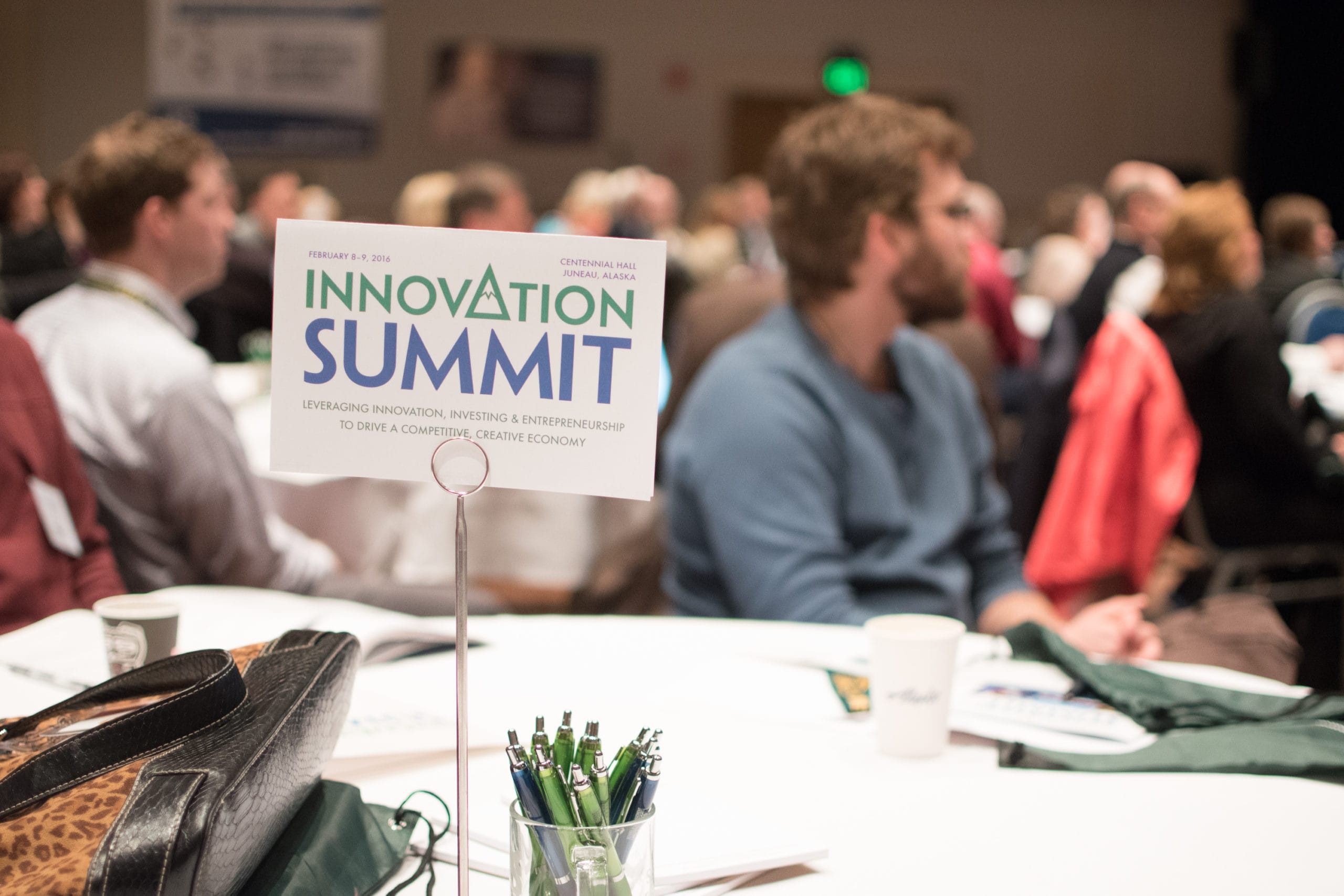 Innovation Shorts Presenters
Presenters will showcase original ideas at this year's Summit with 10-minute Innovation Shorts presentations. The Innovation Shorts offer conference attendees a glimpse into a host of smaller topics that encompass the larger conference theme.
Each short is just enough time to peak the attention of the audience. Innovation Shorts  will also explore new ideas or innovations relevant to the Alaska and Yukon economy.
Thomas Barr
Vice President of Business Development, Local First Arizona
Ben Sanders
CEO & Founder, Proof
Emily Bell
Managing Director, Local First
Ralph Wolfe
Program Director, Sustainable Southeast Partnership
Ky Holland
Partner, Alyeska Venture Management
Dr. Peter Webley
Deputy Director, Office of Intellectual Property and Commercialization, University of Alaska Fairbanks
Jim Coates
Founder and Lead Developer, Kryotek Arctic Innovation
Katie Ashbaugh
BuyAlaska Program Manager, Alaska Small Business Development Center
Ailis Vann
Executive Director, Greater Palmer Chamber of Commerce
Sara Buie
Owner & Co-Founder, Alaska Ruff
Clay Good
Sustainable Southeast Partnership
Jim Powell, PhD
Assistant Research Professor, University of Alaska Southeast
Michelle Wilber
Research Engineer at University of Alaska Fairbanks' Alaska Center for Energy and Power
Tim Leach
Principal at SparkBox LLC, Adjunct Faculty at Alaska Center for Energy and Power
Bob Christensen
Sustainable Southeast Partnership
Shelagh Rowles
Executive Director, Continuing Studies, Yukon University
Jennifer Nu
Sustainable Southeast Partnership
Aimee Hassell
Tiny Haven LLC
Jacqueline Summers
Managing Director, Health TIE
Rachel McCrickard
CEO, Motivo
Jennifer Nu
Sustainable Southeast Partnership
Bill Leighty
Director, The Leighty Foundation
Ryan Witten
Program Manager, Alaska Seeds of Change & Alaska Behavioral Health
Guy Archibald
Scientist, Friends of Admiralty Island
Matthew Bates
Owner, Alaska Artisan Meats
Robert Varness
President and General Manager, Tongass Rain Electric Cruise LLC
Scott Bell
Co-Manager, Alaska Angel Conference
Margi Dashevsky
Regenerative Economies Coordinator, Fairbanks Climate Action Coalition
Melanie Lucas-Conwell
Portfolio Manager, 49th State Angel Fund
Shaina Kilcoyne
Energy and Sustainability Manager, Municipality of Anchorage Solid Waste Services